Lake Oswego Dermatology Group is a medical dermatology clinic with an excellent team.  Our four Board-Certified physicians treat a wide variety of skin disorders.  This includes, but is not limited to, melanoma and other skin cancers, acne, rosacea, eczema, psoriasis, warts, rashes and skin infections.
We offer various treatments for skin cancers including:

We offer state-of-the-art Narrow Band Ultraviolet Light (NB-UVB) treatment for various diseases, including psoriasis, eczema, cutaneous lymphoma, and other chronic skin disorders. We are equipped with a full-body unit, as well as a hand and foot unit.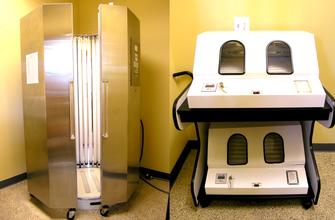 Mohs micrographic surgery is a specialized surgical technique used to treat certain skin cancers, most commonly on the head and neck. This procedure is different from other types of surgery because one physician acts as the surgeon and pathologist. Because margins are checked "real time" while the patient remains in the office, we are able to preserve a maximal amount of healthy tissue while still obtaining fully clear margins around an existing tumor. This often results in smaller defects and smaller scars. Mohs surgery has the highest cure rate among treatment modalities (for appropriate tumors); for example, the cure rate for primary basal cell carcinoma is 98 percent. Your doctor can review whether or not Mohs surgery is an appropriate treatment method for you.